Meet Chelsey McCauley, Nurse Practitioner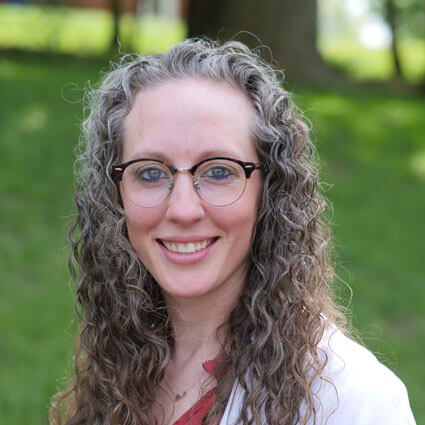 After spending 10 years in the ER in hospitals and dealing with the pandemic for two years, Chelsey was getting burned out. She didn't feel it was a job she could do for the rest of her life. "I felt like patients weren't getting treated the way they should be anymore. Things just changed in the hospital, and I wanted to offer more natural or holistic type treatments."
Education & Experience
Chelsey graduated with a bachelor's in nursing in 2012 and her master's in 2019. A couple of months after graduating is when COVID-19 happened. She found that many hospitals were putting any new hires on hold for a period. While waiting for things to open back up, Chelsey did some travel nursing in Colorado and West Virginia.
She possesses certifications that include
Basic Life Support (BLS)
Advanced Cardiac Life Support (ACLS)
Trauma Nursing Core Course (TNCC)
Emergency Nursing Pediatric Course (ENPC)
National Institute of Health (NIH) stroke
Pediatric Advanced Life Support (PALS)
American Nurses Credentialing Center (ANCC) Board Certified Nurse Practitioner
Types of Treatment Offered
Our practice offers durable medical equipment, and Chelsey can make recommendations about what equipment might be needed, such as back braces or posture pumps for the neck.
The main service she provides is injection therapy to address tightness or trigger points. Chelsey can also treat tendons, ligaments and joints. In addition to providing injections, she can provide prescriptions if needed. "If someone has a sinus infection, for example, we can easily diagnose and treat that."
Explore Our Services
What to Expect
Many patients who are new to the office typically meet with Dr. Gabrielle, who will do an initial assessment and then bring Chelsey in and introduce her. "Some patients aren't even aware that we have a medical division. After I do the assessment, and then tell them about what I do, what the treatment is, and how it works, many patients are interested in starting care."
Chelsey and the team work together to decide on a treatment plan that's in the best interest of each patient.
Enjoying an Active Life
In her spare time, Chelsey enjoys spending time with her husband Ryan. She also has a stepdaughter Trinity, who lives in Portland, Oregon. Chelsey and Ryan enjoy spending time with their three dogs—Mojo, Marley and Juno—and love staying active. "We float down rivers, fly fish, snowboard, mountain bike, kayak and hike."

Chelsey McCauley, Nurse Practitioner | (724) 444-6644